May 11, 2020
Wealth Customers of the Future: resources from episode 3 of our strategy live talks series
In episode 3 of our series of live conversations around digital wealth management strategy, we spoke with three expert commentators about what next generation customers want – here's the recording and some follow-up resources: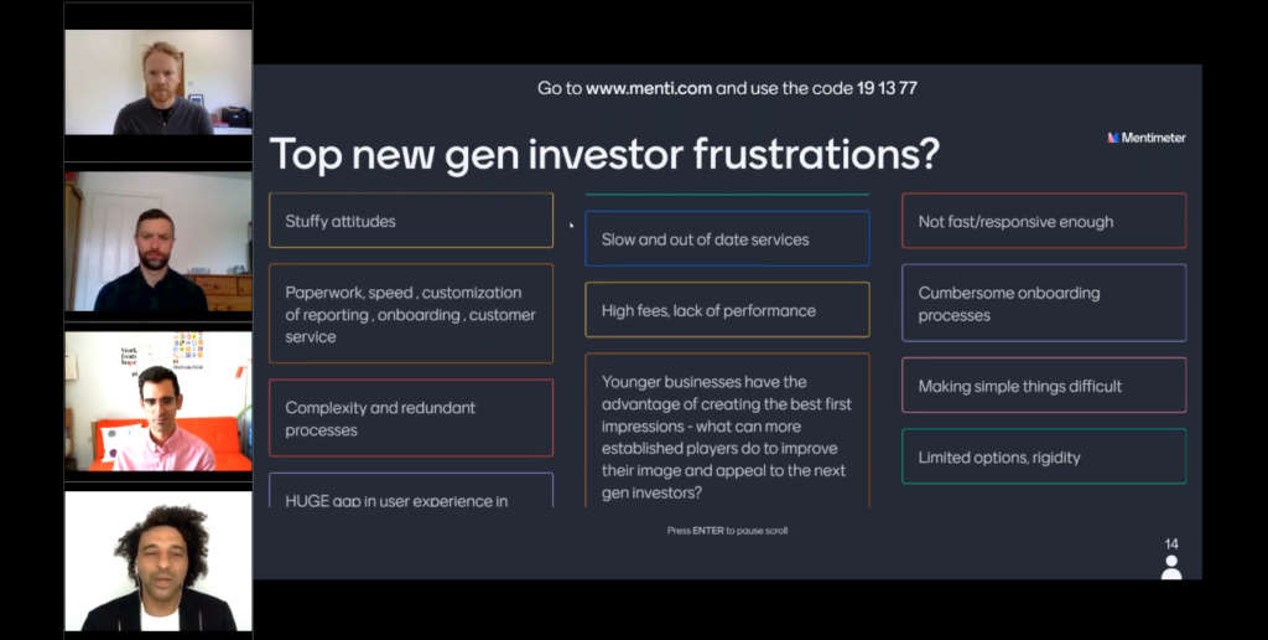 Ask the panel: "How can firms learn more about what is cutting edge i.e. expected UI UX for new generation?"
(Alexander Baxevanis responds:) The answer is to reach out to both prospective and existing clients and have meaningful conversations, not just about what they see as "cutting edge" but why. Any examples your clients bring up should be used for inspiration rather than making a direct copy for the sake of "novelty".
Let's assume that people tell you that they think the way they can quickly log in to another service is "cutting edge". Before attempting to copy this, it would be prudent to ask a few more questions, for example around the balance of an easy login vs the perceived and actual security that people expect from financial services.
We're having such conversations all the time on behalf of the companies we work for, and whilst it's not always easy to get to the underlying client needs and perceptions, only then you'll be able to figure out the best way to serve your clients.
Alexander Baxevanis is UX Director at Inviqa
LinkedIn: https://www.linkedin.com/in/futureshape/
Twitter: @futureshape
---
Market research: new generation customers and crisis comms
In the live discussion, panellist Matt Cross referred to the following two pieces of research: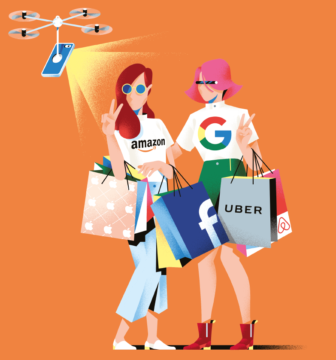 Generation Alpha: in partnership with Wired Consulting, Hotwire have taken a look at what makes Generation Alpha tick…
⇨ Download the report here: https://www.hotwireglobal.com/generation-alpha

A new global study from Hotwire reveals that brands aren't well-prepared to handle sensitive issues or crisis relating to their core values. The study surveyed CMOs, business decision makers and consumers in 8 countries across the globe.
⇨ https://www.hotwireglobal.com/feature/hotwire-values-shield-protecting-your-business-from-crisis
Matt Cross is Head of B2B, EMEA at Hotwire
LinkedIn: https://www.linkedin.com/in/mjcross1979/
Twitter: @crossy
---
Ask the panel: "Are new gen investors, perhaps, not rich enough for established firms to care?"
(Matthew Gardiner responds:) BlackRock, Marcus from Goldman Sachs, JP Morgan, Robinhood, and Yu'e Bao (from Ant Financial) are all providing clear examples of world-leading wealth managers who have widened their focus to include lower income investors. Yu'e Bao in particular (its name means "spare change" in Chinese) is several years ahead of this trend: it is the world's largest Money Market Fund at ~$165bn pre Covid-19 crisis. The rise of this fund's volume was stratospheric.
Fintech has consistently brought financial services closer to consumer markets offering the opportunity to efficiently onboard diverse new market segments and deliver profits concurrently. Younger brands have the advantage of creating first impressions that appeal to next gen investors.
What should the more established players be doing to relate and communicate to this audience? Emulate and iterate upon these brands efforts with the volumes of data you already hold on your marketplace.
This is a distinct competitive advantage.
How can you iterate upon Betterment, Wealthfront, Starling, Goldman Sach's Marcus and Ant Financial's Yu'e Bao using new insights on the data lake that you already have access to?
"Are wealth managers even necessary in times of ETFs, Robo Advisors & AI?"
Yes. As advised in WEF's report on AI in Financial Services – The New Physics of Financial Services – Wealth Managers can develop and own a pivotal role as a trusted entity in a connected world which is making increasing use of digital assets.
Quantum computing is around the corner, China is beta testing its central bank digital currency, ESGs are now tangible investments in Europe, we definitely are living in the fourth industrial revolution. Wealth managers' roles are set to change significantly. Those who move ahead of trends and diversify their offerings have the opportunity to lead the transformation and optimisation conversations in both established and new markets.
Matthew Gardiner is an expert on future technologies and CEO/founder of A1 AI
LinkedIn: https://www.linkedin.com/in/m1xyz/
Twitter: @matwg