December 9, 2021
Digital Banking: Chats, chatbots and voicebots are becoming increasingly important
Questions about finances, savings accounts or pension provision: More and more interaction with the bank is taking place via easily accessible, digital communication channels. Almost half of the customers can envisage themselves communicating via chat or chatbot with their bank. This is shown in the Conversational Banking Study undertaken by Lucerne University of Applied Sciences and Art in Switzerland in collaboration with CREALOGIX.
Chats, chatbots and voicebots are becoming more important when communicating with banks. Of around 1500 bank customers surveyed in Switzerland, Germany and Austria, almost 50% indicated that they could envisage themselves interacting via chat. When actively communicating with the bank, they prefer to make contact via chats, which are integrated into the bank's own channels – website, mobile banking and e-banking. The touchpoint "chat in e-banking" is the most important in almost all the target groups, apart from the 30 to 39 age group. Here, mobile banking dominates. Passive communication with the bank via the bank's own channels is also much more accepted than via channels like WhatsApp and Facebook Messenger or business-relevant chat systems such as Microsoft Teams or LinkedIn.
Daniel Scheiber, Group Head of Conversational & AI at CREALOGIX, says:
"These results clearly show that banks should integrate chat applications into their existing systems. Customers still feel anxious about security gaps when using chats. Accordingly, it is important that banks position the chat channel as a safe alternative."
Simple questions and advice work well via chat
As the table below shows, chats are primarily used for ordering missing documents and for general questions about e-banking and mobile banking. The function seems less appropriate if customers want to cancel a product or terminate a banking relationship.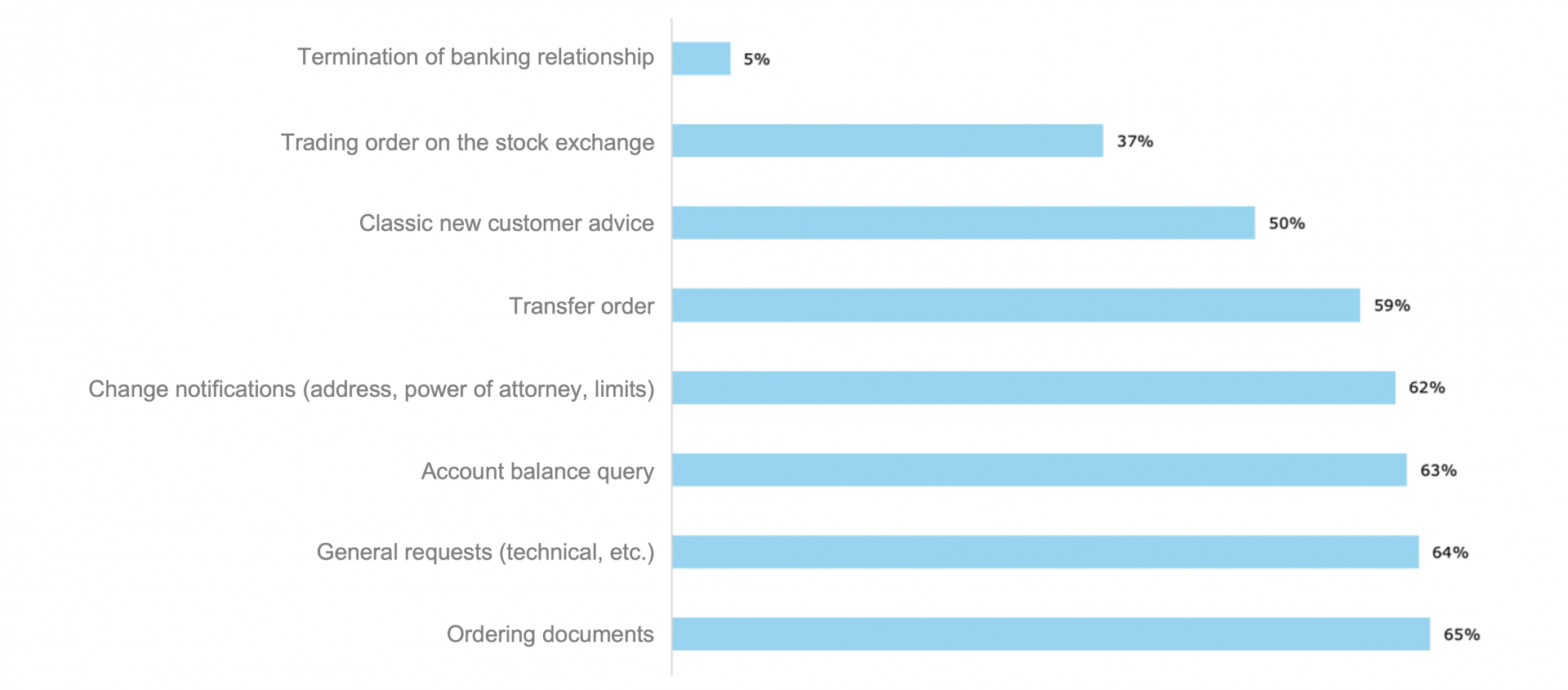 When it comes to banking advice for basic products, such as account solutions, around 60% of all those surveyed, who generally are open to talking via chat, can also envisage getting advice via this channel. For investment products, the number drops to 42%, for credit products it drops to 35%. The study also revealed that acceptance for getting advice via chat is higher the younger the target group is and the simpler the requested product.
Are voicebots the future?
The use of voicebots for banking transactions is still in its infancy. Unlike chatbots, where users must type in their concerns, voicebots allow them to leave a message by telephone or language assistant in spoken language. According to the study's authors, the habituation effects of using such technologies play a big role. Nevertheless the conclusion is: Banks will do well in future to provide their customers with access to digital banking through this channel as well. However, the voicebots must be set up to ensure customers can take care of their respective concern "on the side", for example, when driving a car or carrying out other daily activities.
The entire study can be downloaded here (only available in German).