January 27, 2022
Meeting the needs of SMEs in digital banking will require seamless omnichannel communication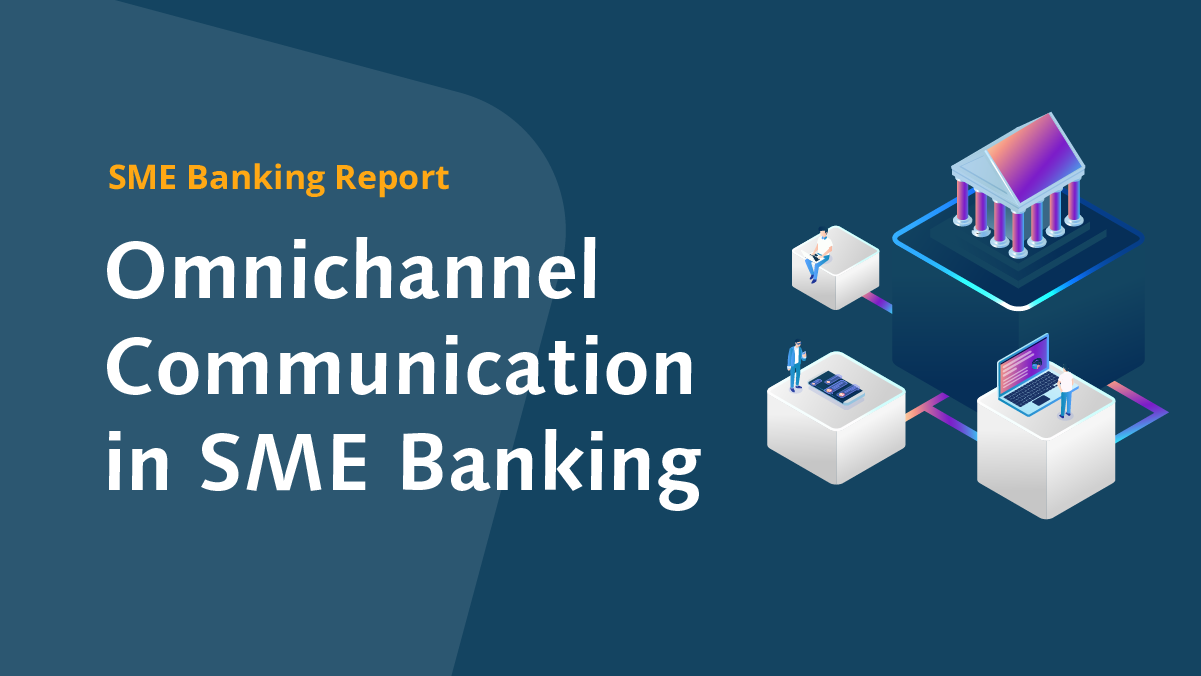 In our recent SME Banking Report, we shared the views of Finance Directors at SMEs in the UK, Germany and Switzerland as well as senior executives at major banks. In many areas their views and priorities were aligned, but often the difference came in how these requirements and ambitions might be realised. 90% of SMEs want their relationship with their bank to become more digital or manage all their finances online already and yet banks are still focussing on building personal relationships. These two ideas are not mutually exclusive because omnichannel communications can deliver the positive UX and convenience of digital banking as well as support banks to build relationships with their customers and share their expertise.
Increasing digital touchpoints in SME banking
Alongside greater functionality in digital banking, almost 80% of SMEs see it as important or very important to increase their digital touchpoints with their bank. This means that there is likely to be a shift from in-person meetings and phone calls to communication via digital channels, including email and secure chat. However, while almost 70% of SMEs see the importance of digital communication channels, less than 40% of banks are planning to improve this. The survey suggests that what SMEs want most of all is choice in how they communicate with their bank, and a lack of secure digital channels may be limiting sales opportunities of new products.
Advice may start online and move to a meeting
One example that demonstrates the value of the omnichannel approach is when asking for advice on products and loans. 47% of SMEs indicated instant chat messaging as one of their top 3 preferred channels. This is very close to the "traditional" channels such as email and in person meetings with 53% and 49% respectively. The choice of instant chat could therefore accelerate the sales cycle and create new efficiencies for SMEs and banks - basic information could be gathered online while the finer details are worked out on the phone or in a meeting.
Omnichannel communication supports greater personalisation
Greater availability and convenience in digital chat channels may increase usage further but it's important to note that increased usage in these channels should not be the end goal for banks. A closer look at the use cases for these channels highlights how digital communication channels can add value to SMEs and improve UX. Automated chatbots can support digital onboarding, for example. Prompts and guidance can help new users navigate the application process and ensure that all required information is provided. This helps to support a smooth onboarding journey, creating a positive first impression of the bank with a new SME customer. The security of digital chat channels also means that it is possible to share documents in a secure manner. This can accelerate processes by reducing administration and postage delays and be considerably more convenient for busy SME owners.
Digital doesn't have to mean impersonal solutions
Digital chat channels can be used to contact advisors, for example during a complex grant application process. AI presents an even greater opportunity for banks to deliver a seamless omnichannel experience. A digital communications channel powered by AI could support an SME in applying for a new loan online by asking the right questions and sending a relevant proposal. These same tools can be used by advisors online and in person when interacting with clients and using AI tools supported by customer data to suggest relevant products.
Find out how banks can deliver a seamless omnichannel experience to SMEs and discover the latest trends in SME banking in our exclusive research report.