January 6, 2020
CREALOGIX Digital Learning becomes an independent company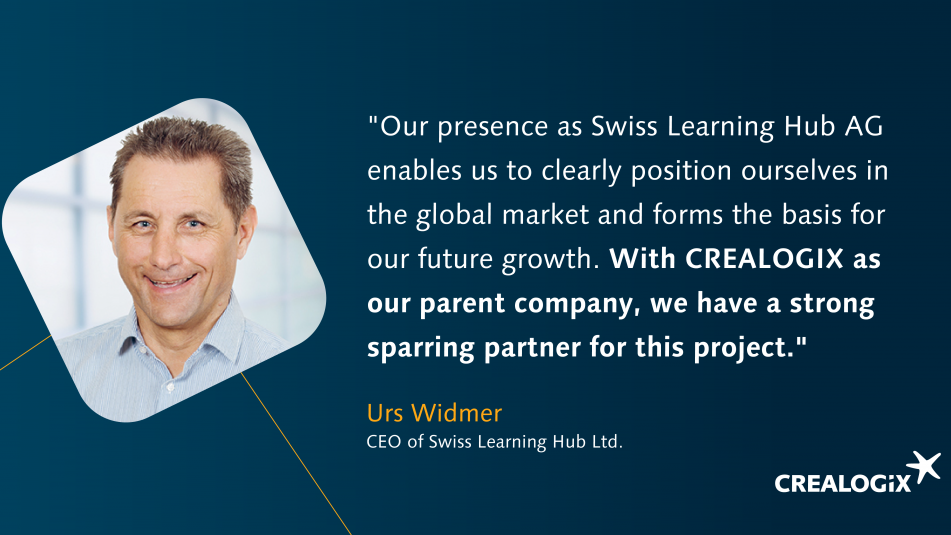 With the founding of Swiss Learning Hub Ltd, CREALOGIX Group's provider of educational platforms and sophisticated learning media creates the basis for national and international growth in the field of digital education and training. The new company remains 100% owned by the CREALOGIX Group.
The core business of the newly founded company lies in the area of education. With its learning management and training delivery products, the software provider is already the swiss market leader in digital learning solutions for vocational training, in-company training and tertiary education. The Swiss Learning Hub Ltd.'s digital platforms are already used by numerous industry associations, universities of applied sciences and more than 8,000 companies. "Our success in the Swiss market and the global trend towards lifelong learning have led us to accelerate our internationalisation. Our presence as Swiss Learning Hub AG enables us to clearly position ourselves in the global market and forms the basis for our future growth. With CREALOGIX as our parent company, we have a strong sparring partner for this project," says Urs Widmer, CEO of Swiss Learning Hub Ltd.
Globalisation of vocational education and training
Switzerland's dual vocational training system is one of the best in the world. The digitalisation of vocational education opens great potential for the global roll out and adaptation of this proven success model. Through strategic partnerships, Swiss Learning Hub Ltd helps transform and license existing vocational training models for global use. The "Swiss Learning Hub" product is already established in the local market and enables leading Swiss educational institutions to digitalise their offerings and export them to international growth markets. With the implementation of the Swiss Learning Hub in China in autumn 2019, a first important step towards internationalisation has already been taken.
Learn more about the Swiss Learing Hub: swisslearninghub.com