December 8, 2022
Emerging from the crypto winter: established financial institutions could gain market share based on investor demand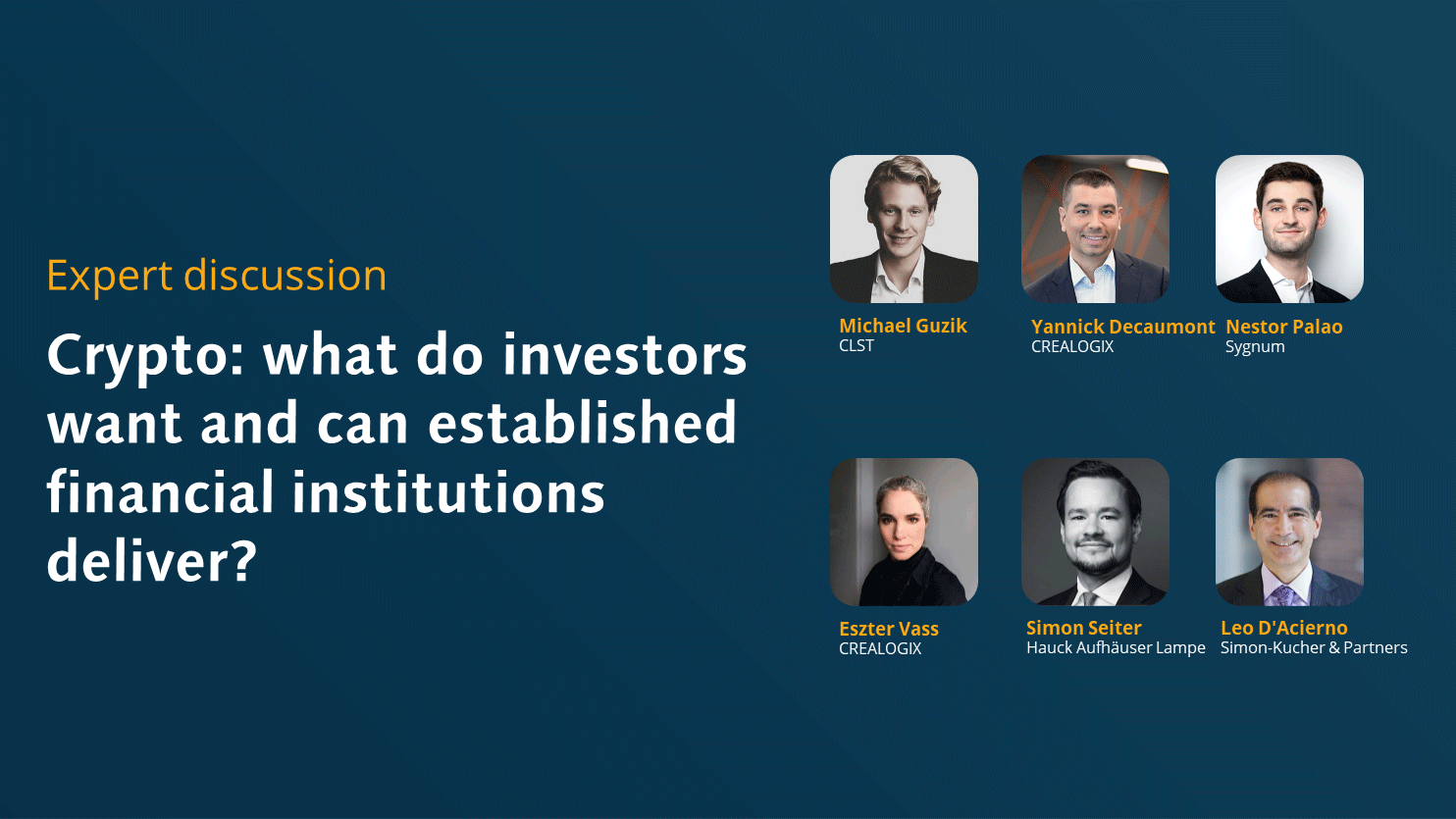 We recently held a webinar to discuss the results of our recent crypto research report with industry experts. Our international panel had a range of backgrounds and experience, it was a lively discussion with many different perspectives, but there were a few points on which everyone agreed. One point was that the integration of crypto into established financial services appears inevitable, in part because of the recent news such as the FTX collapse. Another was that this new asset class would require an original approach because crypto cannot simply be slotted alongside other investments. The third point was that the key to success for banks and technology providers would be close partnerships.
Crypto is here to stay
While the current crypto winter has dented investor confidence, there is still considerable demand and recent headlines on the industry only reinforce the need for trusted and well-established providers. Leo D'Acierno, a senior advisor from Simon-Kucher & Partners shared research from his organisation which concurred with our own results and showed that crypto will soon be part of mainstream financial services. The demand is there and where customers go, financial institutions will have to follow to address the threat of fintech challengers. 
Governing the new world of crypto currency
This new asset class is bringing with it fresh consideration of the digital banking experience. It provides an opportunity to review all existing processes and create greater efficiencies and standards. As Michael Guzik from CLST stated, "We shouldn't use the old systems to govern the new world." This idea of governing is particularly important because it touches on the need for regulation in crypto that better protects investors' interests. There's no doubt that recent developments in the market will lead to greater levels of regulation. The question for banks is whether crypto providers can adhere to their stringent regulatory requirements.
Delivering crypto services through partnership
Néstor Palao, Head DLT & Corporate Clients at Sygnum Bank discussed partnership in the webinar, highlighting the efficiency benefits of partnership compared to building in-house, but acknowledged that banks will require partners that have the same measure of regulation. Partners have a valuable role to play in supporting banks in the delivery of crypto because they have the expertise in this area, but it must be a co-operative partnership with all parties engaging on the range of complex requirements. It is likely that a partner ecosystem which aligns with banks' requirements is likely to emerge as investors look to trusted providers to deliver crypto investment services.
Moving crypto to the mainstream
Despite the market volatility, there is demand amongst investors for crypto services, which means financial institutions will need to meet this demand. The advice of Simon Seiter, Head of Digital Assets at Hauck Aufhäuser Lampe summed up the webinar discussion when he urged banks looking into crypto to "Start right now, cooperate, seek partnerships, avoid others' mistakes. Do it for real, with real money, because you cannot learn from concepts." Investors are seeking trusted crypto investment services that offer expert support. With the right approach, this will be a valuable commercial opportunity for established banks and wealth management firms.
Sign up here to gain immediate access to the webinar recording.
Download the fact sheet for CREALOGIX Crypto, the regulated crypto trading app with your branding, here.